These lakes are among Wisconsin's best for ice fishing
Nearly a quarter of the fish caught each year in Wisconsin come through the ice. And no wonder—ice fishing allows anglers to access any part of a lake they choose and gives them an ability to pinpoint the fish in a way that's nearly impossible in a boat.
Wisconsin is home to thousands of lakes, and nearly all freeze solid each winter. Here are some of the best ice fishing lakes in Wisconsin.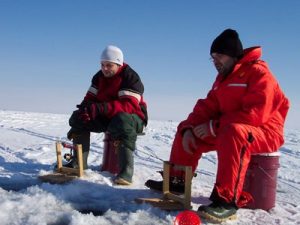 Fantastic Fox Lake
Fox Lake in Dodge County is one of southeast Wisconsin's best fisheries, offering 2,625 acres of quality water. The lake is widely known for its musky during the open water season. But equally impressive is Fox Lake's great fishing for walleye, northern pike, crappie, bluegill and bass.
Walleye anglers need to fish Fox Lake. The healthy walleye population in Fox Lake offers some real trophies, with a few select fish pushing the 30-inch mark. The lake is 19 feet deep, but walleyes tend to stay shallow. Set tip-ups where shallow water drops off to deeper water.
Fox Lake is also known for good crappie fishing. Northern pike can grow pretty large too. An angler who's willing to explore will find many good places to fish. The lake's six islands add to the scenic variety and provide additional variation in the lake topography. It all adds up to one of the most interesting fishing opportunities you'll find anywhere.
Fox Lake can be accessed through the Town of Fox Lake Park on Blackhawk Trail or the City of Fox Lake at the Clausen/Riverside Park. Bait, tackle and fishing advice can be found in the City of Fox Lake. And the communities of Dodge County offer a variety of lodging options. For people living in the Milwaukee and Chicago areas, it's one of the closest high-quality fishing options available.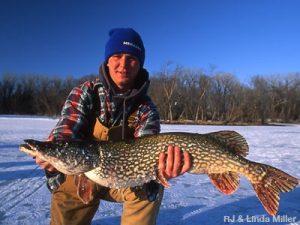 Oh, Lake Onalaska
Lake Onalaska is more than just a lake—it's a major pool on the Mississippi River. Lake Onalaska is one of the best places to fish on the entire river. At 7,700 acres, Lake it is a big body of water. A labyrinth of islands, channels and open water, Lake Onalaska has an incredible amount of fish habitat.
Lake Onalaska is most famous for its panfish, particularly bluegill and crappie. The massive bluegills that come out of Lake Onalaska have earned it the name "Sunfish Capital of the World." The community of Onalaska is quite proud of this moniker, as evidenced by the giant "Sunny the Sunfish" sculpture located just north of town.
But Lake Onalaska's offerings go beyond panfish. The lake also offers good pike fishing. The abundant wetlands surrounding the lake are the ideal spawning ground for huge pike. Baby pike grow quickly on the abundant forage base in the lake. The result is a population of huge pike waiting to be caught. And winter is the best time of year for doing it.
Lake Onalaska is big water. Plan on bringing a few tip-ups and be ready to move around. The reward for your efforts might be a trophy pike. And as an added bonus, one of Lake Onalaska's hefty walleye might just decide to take your bait.
Anglers will find everything they need for a great trip right in Onalaska, which is home to a wide variety of lodging options and the largest retail district in a nine-county region.
Get complete trip planning information for Onalaska by visiting www.discoveronalaska.com.