Winter is primetime for scuba diving on Wazee Lake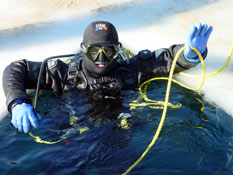 In a state not renowned for its scuba diving, people are surprised to hear that Wazee Lake near Black River Falls is one of the most popular scuba diving destinations around. Equally surprising is the fact that one of the best times for a dive in Wisconsin's deepest lake is when it's covered with solid ice.
Wazee Lake was formed when the Jackson County Iron Mine Quarry closed in 1983 and the pumps that kept the mine from filling with water were turned off. Within days, the 355-foot quarry, complete with roadways and a small forest, filled with water.
During the winter, ice divers cut holes in the ice and descend into the depths to enjoy what has been described as a truly otherworldly experience. Water clarity is at its highest during the winter, enabling divers to see more than they would at any other time of the year.
Whether you're a scuba diver looking for a new type of diving experience or just curious onlooker who wants to see what folks who dive into the ice look like, you need to head to Wazee Lake this winter. Find out more about this extreme winter sport.