From mid-February to late March, Onalaska is bald eagle central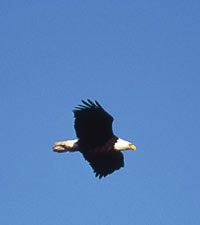 There's birdwatching—and then there's bald eagle watching. Something about these huge, soaring raptors makes even the most seasoned outdoor enthusiast's heart race a little. Kids and grown-ups alike get giddy at the sight of a bird with a 7-foot wingspan gliding through the air.
For a good chance of getting a glimpse of a bald eagle, head to Onalaska from mid-February to the end of March, when the ice begins to break up on the Mississippi River and Black River. Eagles are attracted to open water so they can catch fish. When the eagles aren't actively looking for food, they perch in nearby trees along the river and on the bluffs.
When bald eagle numbers hit their peak, it's not uncommon to see fifty or more birds congregating near the same section of open water, resting, feeding and sometimes even fighting each other for prime perches and feeding spots. You'll find scenic overlooks and viewing location all around Onalaska and at points up and down the Wisconsin Great River Road.
Once you've seen the winter eagle spectacle, you'll return year after year to see it again. Learn more.