The Midwest's best kept secret for cross-country skiing and snowshoeing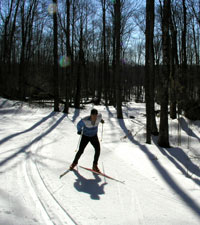 Just an hour south of the 50 km course for the Midwest's most famous annual cross-country skiing event—the Birkabeiner in Cable—you'll find a landscape of rolling hills and quiet forest glades known as the Blue Hills.
Cross-country skiers and snowshoers visiting the area will find lodging, dining and shopping in nearby Rice Lake and the small towns of Rusk County.
The Blue Hills are overshadowed by the more famous Birkie in name only. For ski trail quality and woodland scenery, the Blue Hills can't be beat. The Blue Hills are home to several trail systems, boasting hundreds of miles of the best skiing in the state. Snowshoers will find several Blue Hills trails for trekking.
Get maps and trail info for all Blue Hills area trails, visit www.bluehillswisconsin.com.