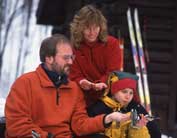 The last days of winter offer the year's best cross-country skiing in Vilas County.
This winter, 44 states across the country have snow on the ground. It has been a long, long winter for most Americans. For cross-country skiers, it's been just plain wonderful!
Nowhere in Wisconsin is late winter snow cover more welcomed and appreciated than Vilas County. The excellent snow cover, combined with the relatively mild daytime temperatures of late winter, make it the ideal time for skiing the trails.
Cross-country skiing trails are everywhere in this heavily forested county. Vilas County's location at the southern edge of the Lake Superior Snowbelt means that they get more snow than nearly any other place in the state. If you don't own a pair of cross-country skies or snowshoes, you're in the definite minority.
Cross-country skiers from around the Midwest come to the area to stay at resorts, rentals cabins and vacation homes that cater specifically to the winter "silent sports" crowd. Trail maps are available for all of the county's 40+ designated ski trails at www.vilas.org.
While the rest of America pines for spring, head to Vilas County and enjoy the best days on the winter trail.